Centerpieces at YourMurano are special handcrafted items that range from bowls to the most beautiful plates. Our furnaces are located in the Isle of Murano in Venice, better known as the "Isle of Glass" thanks to its enormous glass production making it the only one in the world with this feature.
Glassmaking in Venice is considered as of the oldest tradition of the City, in fact, it trades back to the 1200s when the first furnaces started commercial activities and exported precious handmade goods to the East. Even though glass production was first performed in Ancient Egypt, Venetian furnaces finalized the process and made it unique with a touch of Italian Style.
How is it made then? Murano Glass products are primarily made up of exceptionally clean silica sand, that may be tinted to any desired color by adding precious metal oxides. The substance is then processed and fused with little amounts of additional chemical ingredients at an extremely high temperature of 1200° Celsius. Finally, the compound is transformed into colored glass and shaped through a glass-blowing technique authentic to Murano.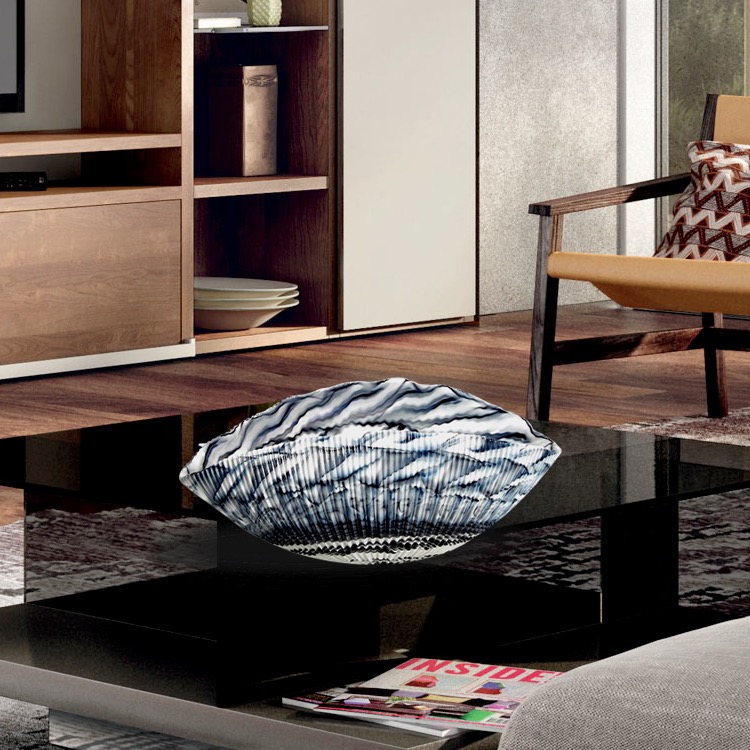 Our skilled Glass Masters work together to achieve the ideal shape, a result of imagination and creative skill at its peak. Their inspiration comes from Venice's unique landscape, the lines of the crisp water waves, and the colors of the ancient Venetian architecture. Combine this with their famous artistry and contemplate our Murano Glass items. In particular, our Decorative Glass Plates let the Artisans' passion and love for glass shine through, making them the perfect pieces for every occasion. Whether you would love to have it for yourself or make it into a gift, a glass plate will surely stand out in every home. Being the perfect decoration from both modern and classic styles it is also able to give light and color as your favorite table's centerpiece or even just as furniture decoration. Try displaying it in the entrance hall for example and wow your guests or dear ones when welcoming them. Sporting every range you could imagine, our Decorative Glass Plates are available in an extensive variety of colors, styles, and decorations, such as multicolored murrine-embellished plates, the highest symbol of Venice and Murano glass-making tradition.
Results of everyday hard work, words cannot describe the beauty and feel inside a decorative glass-made item. Enjoy a unique piece of art, able to renew the atmosphere of every room with its colors and one-of-a-kind design. Check our catalog and take home your favorite Murano Glass Plate, we are sure you are going to love them!